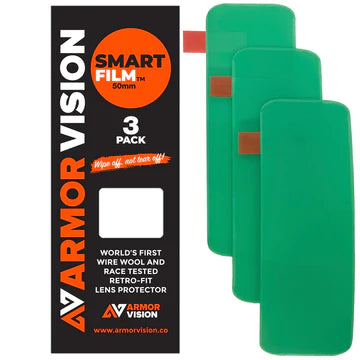 ARMOR VISION
SMARTFILM 50 MM LENS PROTECTOR (PACK OF 3)
Regular price
Sale price
$19.00 USD
Unit price
per
Sale
Sold out
Share
View full details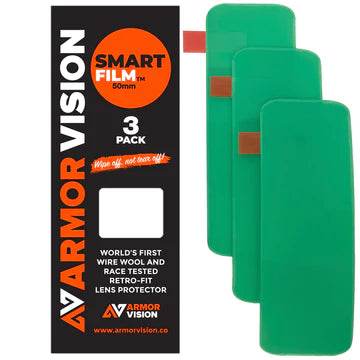 ARMOR VISION
SMARTFILM 36 MM LENS PROTECTOR (PACK OF 3)
Regular price
Sale price
$19.00 USD
Unit price
per
Sale
Sold out
Share
View full details
HIGH IMPACT WIRE WOOL AND RACE TESTED SCRATCHPROOF COATED LENS

We believe that your safety and clarity of vision should never be compromised.


That's why we introduced

HISC™ High Impact Surface Coating.

More than just a name, HISC™ is the emblem of trust, a brand mark that instils instant confidence in your purchase.

HISC™ represents the future of safety in vision protection, seamlessly integrated into every product we offer. It assures that your vision remains crystal clear, even in the harshest conditions. With HISC™, abrasions and scratches are a thing of the past, and water beads up and rolls away, leaving your vision unobstructed.

HISC™ is the symbol of excellence, reliability, and innovation. It's your guarantee of superior performance, durability, and peace of mind.

Choose HISC™ and experience a new standard in vision protection - where safety meets vision and confidence meets your pockets and peace of mind.

WORLD'S FIRST WIRE WOOL AND RACE TESTED RETRO-FIT LENS PROTECTOR

SmartFilm®
SmartFilm® is the ultimate solution for those seeking unparalleled durability and clarity. Our multiple iterations have led to the clearest vision, even in the toughest conditions. Tear-offs are quickly becoming a thing of the past, even when used under a Roll-Off system SmartFilm® stays scratch-free, which means your expensive lenses remain scratch-free too.
SmartFilm® represents a ground-breaking paradigm shift in vision protection. Our decades of research and development have led to an advanced UV coating and a special adhesive formulation, created specifically for our requirements. Our inspiration came from renowned tech giants, and we didn't stop there.
Our hydrophobic layer is a game-changer and sets ArmorVision | SmartFilm® apart. It has to be seen to be believed! Beneath the surface lies a layer of unparalleled hardness that we have named HISC™. This innovation has withstood the wire-wool challenge, making SmartFilm® the world's first race-tested, wire-wool-tested lens protection product.

ArmorVision | SmartFilm® has earned international recognition, boasting a coveted registered trademark and a suite of granted design patents. We keep our guarded secret close to our chest. SmartFilm® is a testament to our commitment to redefining vision safety, as the old ways die out.


CLEANING AND RESTORING ANTI-FOG PROPERTIES

Restoration Anti-Fog Solution

London Met Police tested

30ml bottle lasting a ton of ride miles

Extreme weather tried and tested
HISC™ Elevating Vision Protection to the Next Level

We believe that your safety and clarity of vision should never be compromised.


That's why we introduced

HISC™ High Impact Surface Coating.

More than just a name, HISC™ is the emblem of trust, a brand mark that instils instant confidence in your purchase.

HISC™ represents the future of safety in vision protection, seamlessly integrated into every product we offer. It assures that your vision remains crystal clear, even in the harshest conditions. With HISC™, abrasions and scratches are a thing of the past, and water beads up and rolls away, leaving your vision unobstructed.

HISC™ is the symbol of excellence, reliability, and innovation. It's your guarantee of superior performance, durability, and peace of mind.

Choose HISC™ and experience a new standard in vision protection - where safety meets vision and confidence meets your pockets and peace of mind.

THE BENEFITS

• Save money, use one lens for months on end!

• More environmentally friendly than tear offs

• Reliability, no more broken roll offs!

• Endless wipes, never run out of clear vision mid moto
ARMOR VISION
ANTI-FOG SOLUTION - 30ML
Regular price
Sale price
$20.00 USD
Unit price
per
Sale
Sold out
Share
View full details
TESTIMONIALS
DAVID KNIGHT

MULTIPLE ENDURO CHAMPION
"Being able to see is the most important thing in racing… I've been hammering a set of goggles with a HISC lens without fear of scratches."

JON PEARSON

ENDURO21 EDITOR
COOL REVIEW FROM ENDURO21 - Seeing really is believing! It feels really really strange and wrong to take a pair of brand new goggles and butcher the lens with a piece of wirewool. But it's satisfying to see as you did that, it doesn't scratch at all!

BILLY MACKENZIE #211

PROFESSIONAL MX RIDER
"I tried this new innovative anti scratch lens cover while racing. I was on track for all three motos and practice without one tear off! Could this be the future without roll offs or tear offs? It worked well in the fine sand. Research and development started."

BRAD TODD

PROFESSIONAL MX RIDER
"I think it's a brilliant idea, the way the sport is going with roll offs only at tracks, it's good to see that there is a new alternative route that actually works, I was very sceptical at first but it truly is an amazing product."